Gingerbread is great. It has sugar and spice and everything nice. And since pumpkin is nice, it belongs in this bread.
This bread is incredibly moist, mostly thanks to the pumpkin. It also has a nice amount of spice and sugar. You can probably use 100% whole wheat flour if you want, but I haven't tried that yet.
By the way, you can add some nutmeg or cloves in here if it suites your fancy. I didn't even think about that when I was making it. Neither did I miss it, but you might.
Thanks for stopping by! Hope you all enjoy the bread.
Sarah:)
Pumpkin Gingerbread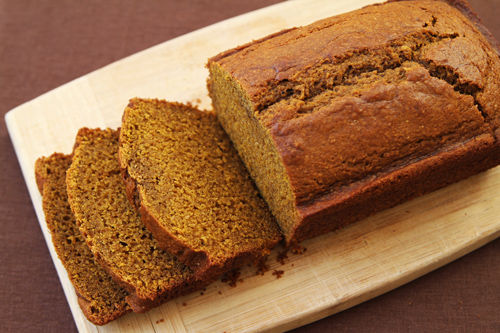 Pumpkin Gingerbread
Prepared by Sarah Shilhavy, Photo by Jeremiah Shilhavy
Servings: 1 loaf
Preparation Time: 15 minutes
Preheat oven to 325 degrees F. Grease a loaf pan with extra coconut oil
In a medium sized bowl, oil, sugars and egg. Whisk until smooth. Add milk to blend. Whisk in pumpkin and spices.
In another bowl combine remaining ingredients and stir to combine. Add to pumpkin mixture and whisk just until blended, but still on the lumpy side.
Pour batter into pan and bake in preheated oven for about 1 hour, or until toothpick inserted into center comes out clean.
Recipe courtesy Sarah Shilhavy
Published on November 23, 2010