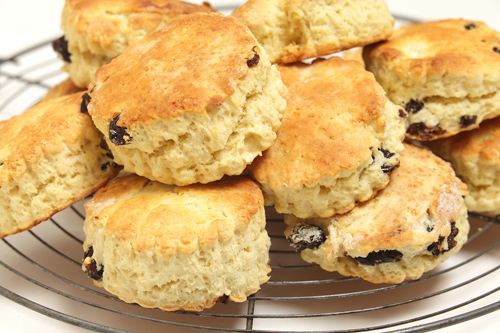 stock photo
1 cup all-purpose flour
1 + ¼ teaspoon baking powder, aluminum-free
½ teaspoon salt
3 tablespoons coconut oil – cold
3/8 cup whole milk
1/4 teaspoon vanilla extract
1 teaspoon organic cinnamon
¼ cup raw sugar
raisins and nuts, may pre-soak raisins in hot water
Preheat oven to 400 degrees.
Combine flour, baking powder and salt together in a large bowl. Cut the cold coconut oil in until the mixture resembles coarse cornmeal. Add milk and vanilla and stir until just combined. Gather dough into a ball and divide in half.
On a floured surface, press or roll out each half to a 7×5 inch rectangle. On one half, sprinkle the cinnamon, sugar, raisins and nuts evenly over top. Cover with the other half of dough and press slightly. Cut dough into 6 equal squares by cutting once lengthwise down the middle then two cuts across.
Place on a small baking sheet, lightly greased and bake for about 10 minutes. Serve with scrambled eggs and drizzle with honey or eat plain.
Recipe submitted by Laura, Cleveland, GA
Published on May 14, 2008