I love this recipe. It's easy, just a handful of ingredients, and no cooking involved.
If you read the comments below from when the recipe was first posted you'll see my comment and the way I like to make it. But you don't have to; I can tell you right now.
I like to use the juice from 2 (usually large) lemons, and all of their zest (or almost all). Then I warm the Coconut Cream Concentrate to a smooth, stir-able, peanut butter consistency and stir all the ingredients together. Warming the CCC is important; that's what gives the balls a smooth, creamy, melt-in-you-mouth taste and texture. I usually don't use any of the optional stuff. Sometimes I even add a few tablespoons of melted coconut oil in, but that is totally optional as there is already a good amount of oil in the CCC.
After stirring everything together, I scoop the balls unto a cookie sheet (or whatever other flat baking-pan like thing my hands grabbed first) and freeze or refrigerate until firm. If the mixture is too thin for scooping just stick the bowl into the freezer for a couple minutes at a time and stir until the desired consistency is achieved.
So when life gives you lemons, make these. Watch the video for a quick walk-through and enjoy these tart and creamy little bites. The only thing you'll have to worry about is not eating the entire batch in one day.
Enjoying Lemons,
Sarah:)
Quick Lemon Coconut Candy (No Bake)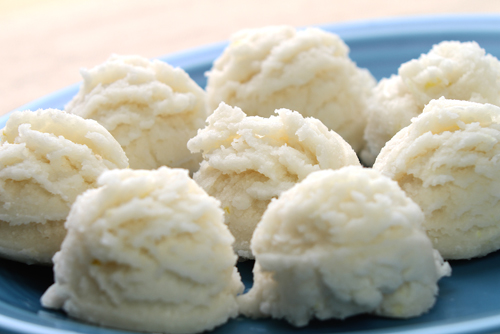 Quick Lemon Coconut Candy
Prepared by Sarah Shilhavy, Photo by Jeremiah Shilhavy
Mix the first 4-5 ingredients together until well mixed and smooth. Form into balls, roll them in the coconut flakes and refrigerate or freeze. You can also put them in candy molds without the coconut flakes to get a different look. They will harden when refrigerated.
Recipe submitted by Alice, Las Crescenta, CA
Published on April 14, 2010