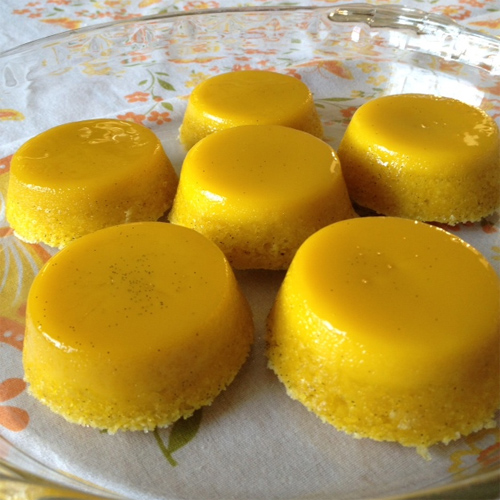 Quindim Recipe
photo by recipe author
You can place some fresh raspberries around the custard and on top, as a decoration. They taste like heaven together!
Servings: 9
Preparation Time: 30 minutes
Pre-heat oven to 350 degrees ºF.
Boil about 4 cups of water. Butter a regular size muffin pan with extra butter and dust with extra sugar. You will need to butter and dust with sugar just 9 molds, which is the amount of quindins you are getting with this recipe.
In a small saucepan add water, sugar, vanilla extract or scrapped vanilla bean (add the bean to the water also) and bring to a boil. After it starts boiling, set the timer for 5 minutes. After the time has passed, remove the liquid from heat, remove the beans, if using, and strain the liquid to a medium bowl, add butter and let it cool. Mix the egg yolks and the dried coconut and add this mixture to the cooled liquid. Mix well and pour into the prepared muffin pans, about 3/4 full.
Prepare a water bath by pouring boiling water into a cooking sheet and setting the muffin pan on top. Bake for 22 minutes. Remove from oven, let it cool for 5 minutes. After that pass a knife or a spatula around the custard to loosen a bit. Place another cooking sheet on top of the muffin pan and invert. The custards should come out easily. Enjoy this dessert at room temperature. Can be stored in the refrigerator for a few days, if it lasts!
Recipe submitted by Sirlei, Athens, OH
Published on July 26, 2013