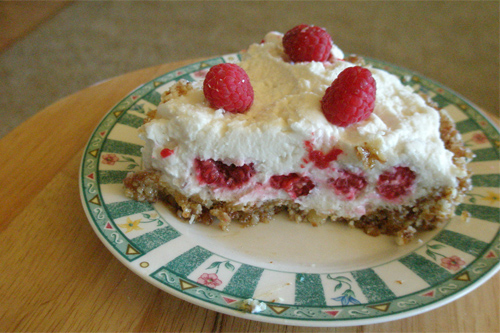 Raspberry Coconut Cream Pie
photo by recipe author
This is a really delicious alternative to cheesecake and lends itself to different kinds of berries as well as different sweeteners.
Servings: 8
Preparation Time: 20 minutes
1-1/2 cups raw almonds
3/4 cup Medjool dates – pitted
1/2 cup coconut flakes (optional)
1 cup full fat coconut milk*
2 cups Greek yogurt, divided
1/2 cup honey, softened and divided
1/2 – 1 teaspoon vanilla extract
1 cup softened coconut cream concentrate, divided
1 cup or more fresh or frozen raspberries
1 tablespoon lemon juice
Pie Shell: (for a 9 inch pan – lightly greased)
In a food processor, pulse the almonds until coarsely ground. Add the dates and coconut flakes (if desired) and mix until blended. Press mixture evenly into pie pan.
Filling:
Mix coconut milk, 1 cup yogurt, 1/4 cup honey and vanilla extract. Quickly mix 1/2 cup softened coconut cream concentrate into the filling mixture.
Fold in the raspberries, reserving a few for the pie top. Spread in prepared pie shell and refrigerate while preparing topping.
Topping:
Using a stick blender or mixer, mix the remaining cup of yogurt with remaining 1/2 cup coconut cream concentrate, 1/4 cup honey and the lemon juice. If too thick, add a bit more yogurt. If too thin, add 1 tablespoon or so more of coconut cream concentrate.
Loosely pile the topping onto the chilled pie to give the appearance of whipped cream.
Top with fresh raspberries and chill for several hours until set. Slice into 8 pieces and serve.
Recipe submitted by Joyce, Campbell, CA
* For the freshest coconut milk make homemade coconut milk. (See video at this link.)
Published on July 25, 2011