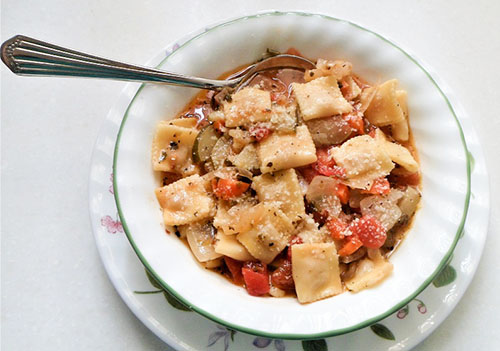 Ravioli Soup
photo by recipe author
Servings: 4-6
Preparation Time: 40-45 minutes
2 tablespoons extra virgin olive oil or coconut oil
1 large onion, diced
2 large carrots, diced small
1 large or 2 small zucchini, halved lengthwise & cut into half moons
1 teaspoon basil
1 teaspoon oregano
1 teaspoon granulated garlic
½ teaspoon red pepper flakes
1 teaspoon pink salt
1 teaspoon pepper
2 cups jarred or canned organic diced tomatoes
¼ cup grated Parmesan cheese, plus more for garnish
1 quart chicken broth
1 ½ cups water
1 ½ cups mini cheese ravioli (regular or gluten free)
Heat the oil over medium heat in a large soup pot. Add the onions, carrots and zucchini. Sauté until vegetables are softened, 8-10 minutes.
Mix in the basil, oregano, garlic, red pepper, salt & pepper, and stir 1-2 minutes to release their flavors. Stir in the diced tomatoes, Parmesan, broth and water and bring to a boil.
Add the mini raviolis and bring the soup back up to boiling. Reduce the heat to medium, and simmer until the ravioli is completely cooked through, 15-18 minutes (or according to package directions).
Adjust salt & pepper if needed and serve garnished with extra Parmesan cheese.
Stephanie from Rio Rancho, NM won $50 for this recipe and photo! Submit your recipes and photos here!
Published on January 5, 2018