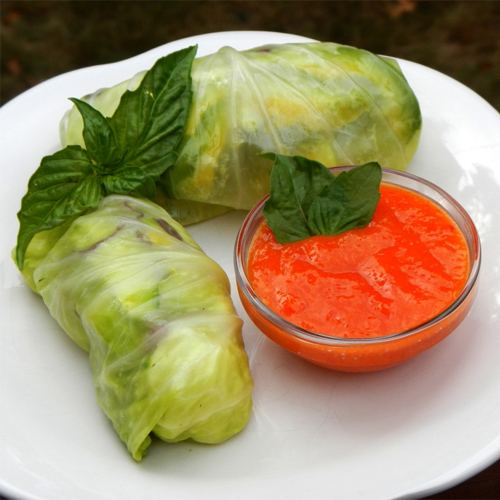 Raw Sweet and Sour Sauce with Cabbage Salad Rolls Recipe
photo by recipe author
Serve on the side with fresh salad rolls (recipe below) or toss over fresh veggies like pineapple, red onion, bell pepper, zucchini, and broccoli to create a meal.
Servings: 3
Preparation Time: 1 hour, 30 minutes
Thai Style Salad Rolls:
1 head cabbage
2 tablespoons coconut oil
1 cucumber
1 avocado
1 large carrot
1 bunch fresh mint
1 mango
3 tablespoons Atchara
optional: handful fresh basil or cilantro
Sweet & Sour Sauce
Place the head of cabbage on the table with the core facing up back at you. Take a knife and cut the core out, making a square around it. Once the core is removed, you should be able to pretty easily slide each leaf off separately pulling up from the base. If the leaves don't peel off easily, then cut the whole around the core a bit wider. Once you have about 8 to 12 cabbage leaves, rub each one in a little bit of warmed coconut oil. Set them in the dehydrator (this will work best in a large dehydrator). Dry at 115 ºF for 1 hour.
While the cabbage leaves are wilting in the dehydrator, slice the fruits and veggies into long thin strips to use as filling in your rolls. You can also shred any of the remaining cabbage you have left.
Remove leaves from dehydrator and stuff with your favorite fresh veggies, cabbage and atchara, and then wrap and roll. I find it works best to put the filling ingredients near the base of the leaf, fold over the sides, then roll up into the top of the leaf. If there are any large spines/stems on your leaves, you can also cut them out.
Blend all sauce ingredients in a blender and serve with the rolls.
Recipe submitted by Andrea, Willamina, OR
Published on August 28, 2013