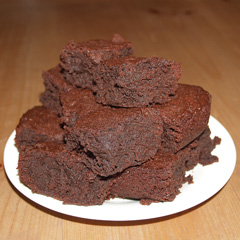 Gluten Free
YIELD: 24 bars
Preheat oven to 350 degrees. Grease and dust an 11×8 pan with coconut oil and coco powder.
Place butter, sugar, chocolate, and brown rice syrup in a medium sized pot and melt on low heat, stirring until everything is well blended and smooth. Sift in the coco powder. Remove from heat and set aside to cool. Beat the eggs and vanilla extract together with an electric mixer until frothy. Then on low speed, mix in cooled chocolate mixture and sugar. Alternatively add in the flour, heavy cream, baking powder, beating mixture after each addition.
Pour mixture into the prepared pan and bake the brownies in the preheated oven for 30 minutes or until the top of the brownies is crisp and the edges begin to pull away from the pan. (The inside of the brownies will be dense and soft to the touch.) Cool the brownies in the pan on a wire rack until cool. Dump the brownie out of the pan and cut into bars and serve. Frost with chocolate or vanilla frosting if desired. Enjoy!!
Published on December 16, 2011