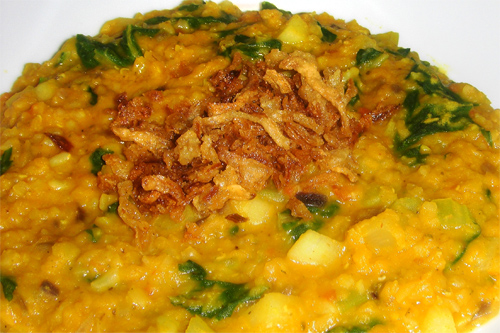 Red Lentil Stew with Fried Onions
Photo by recipe author
Servings: 2
Preparation Time: 15 minutes
1 cup red split lentils (Masoor Dal)
2 1/2 cups distilled water
1 1/2 tablespoons Virgin Coconut Oil
3 garlic cloves, minced
1 small daikon, diced
1 celery stalk, diced
1/2 cup red onions, diced
1 1/2 cup green chard, chopped
1 teaspoon fine salt
1 teaspoon paprika
1 teaspoon cumin
1 teaspoon oregano
1 1/2 teaspoon garlic powder
1 1/2 teaspoon ground turmeric
3 tablespoons tomato sauce
1/2 cup cooked bulghur
organic fried onions
Rinse red lentils and place in pot. Add water and bay leaves and boil over medium heat for 15-20 minutes not allowing all liquid to evaporate.
Meanwhile, heat sauce pan with coconut oil. Sauté diced daikon, celery and onions for 8-10 minutes, then add minced garlic and chard. Do not overcook.
Remove pan from heat and add vegetables to cooked lentils. Add spices and tomato sauce and cook for another 5-8 minutes.
Add cooked bulghur at the very end and simmer until hot to serve.
The point is for this dish not to be too salty, but if you need it you can add another 1 teaspoon salt.
If your vegan, add 1 -2 teaspoons of Gomashio for nutritional seasoning or pickled radishes.
Serve while hot and decorate with 3 teaspoons of fried onions.
Recipe submitted by Noelle, East Lansing, MI
Published on August 16, 2010