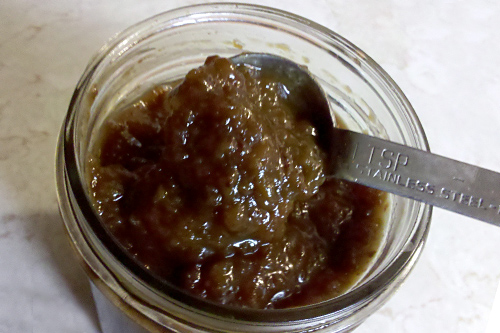 Rhubarb BBQ Sauce
photo by recipe author
Adding just a bit of oil to this recipe made it closer to the viscosity of Italian sauces using olive oil. I used Virgin Coconut Oil which lent to the sweetness of the fruits in this recipe without tasting "coco-nutty."
Servings: 4 pints
Preparation Time: 15-20 minutes
If canning, prepare canner, jars and lids.
Combine all ingredients in a medium stockpot. Bring to a boil over high heat, stirring frequently. Lower heat and boil gently, stirring occasionally, until mixture is thickened, about 30-45 minutes. Once the fruit has softened enough to crush easily (about 20 minutes), blend the sauce with an immersion blender, or by transferring to a blender or food processor.
When sauce has reached desired thickness (leave it a little thinner than you want, as it will thicken on cooling), taste and adjust seasonings. Note: original recipe called for no garlic, but a habanero, so feel free to adjust the heat!
Ladle hot sauce into jars and allow to cool completely before labeling and storing.
When using from the fridge, please let set at room temperature about 15-20 minutes and stir before using.
Recipe submitted by Sandra, West Point, NE
Published on July 13, 2011