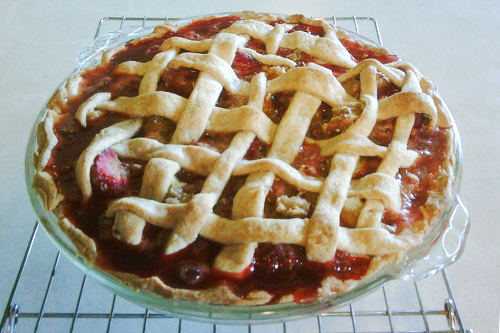 Rhubarb Strawberry Pie with Coconut Oil Pie Crust
Photo by recipe author
Servings: 8
Preparation Time: 30 minutes
Coconut Oil Pie Crust:
2 cups whole grain spelt flour
1 teaspoon salt
2/3 cup coconut oil (cold)
9 tablespoons cold water
Pie Filling:
Recipe: For Coconut Oil Pie Crust:
Sift together flour and salt. Cut in coconut oil with a pastry blender until pieces are size of small peas. Sprinkle water, a tablespoon at a time, over part of mixture. Gently mix with fork; push to one side of bowl. Sprinkle next tablespoon water over dry part; mix lightly. Repeat until all is moistened.
Form into a ball and divide dough in half. Flatten slightly and roll on floured board. Repeat with other half.
For Pie Filling:
1. Preheat oven to 400 degrees F (200 degrees C).
2. In a large bowl, mix flour and sugar. Add strawberries and chopped rhubarb. Toss with sugar and flour and let stand for 30 minutes.
3. Pour filling into pie crust. Seal edges of top and bottom crust with water.
4. Cut small holes in top to let steam escape.
5. Bake at 400 degrees F (200 degrees C), for 35 to 40 minutes, or until bubbly and brown. Cool on rack.
Recipe submitted by Selena, Bark River, MI
Published on May 28, 2010