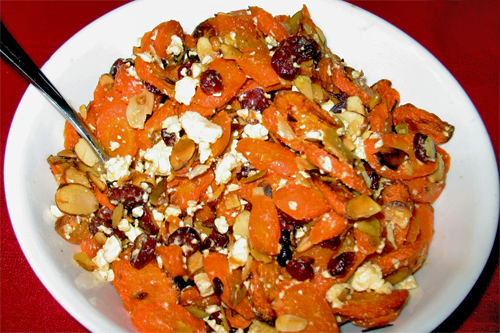 Roasted Carrot Medley
photo by recipe author
Servings: 6
Preparation Time: 20 minutes
1. Preheat an oven to 400 degrees F (200 degrees C).
2. Warm virgin coconut oil in small saucepan over low heat. Combine the carrots, almonds, and garlic in a mixing bowl. Drizzle with the melted virgin coconut oil, then season to taste with salt and pepper. Spread out onto an ungreased baking sheet.
3. Bake the carrots in the preheated oven until soft and the edges turn brown, about 30 minutes. Remove and allow to cool to room temperature.
4. Once cool, return the carrots to the mixing bowl, and drizzle with raw honey and vinegar; toss until coated. Add the cranberries and feta; toss again until evenly mixed. Serve Cool.
Recipe submitted by Jodi, Lehi, UT
Published on April 1, 2011