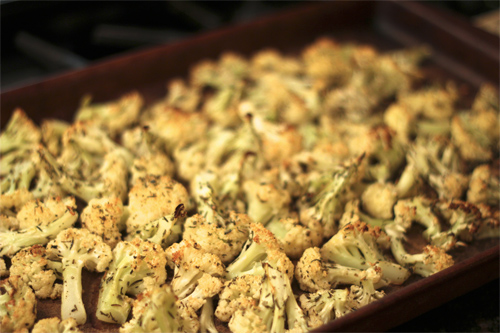 Roasted Coconut Cauliflower Recipe
photo by recipe author
Servings: 4
Preparation Time: 30 minutes
1 large head cauliflower
2 tablespoons solid coconut oil (approx. 1 1/2 tablespoons melted)
1-2 teaspoons sage
1-2 teaspoons thyme
fresh lemon juice
Preheat oven to 400 degrees F.
Prep cauliflower by cutting into pieces and wash. Dry well.
Put cauliflower into a large bowl add melted coconut oil, sage, thyme, and salt & pepper to taste. Mix together very well to coat all cauliflower.
Place on a baking sheet and bake for 25 minutes. The cauliflower will begin to brown around the edges.
Remove from oven and place back in the bowl and squeeze fresh lemon juice over top, mix well.
All ingredients can be adjusted for desired flavor.
Recipe submitted by Chelsea, Chicago, IL
Published on January 28, 2013