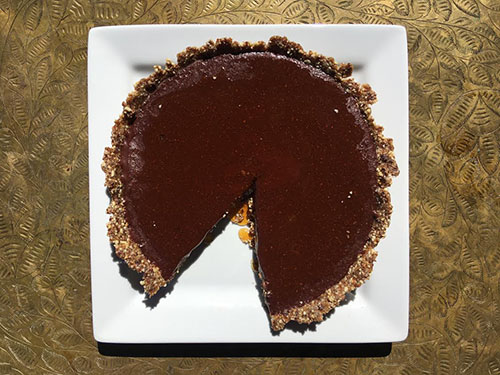 Robust Raw Cacao Pie with Nut + Fruit Crust
photo by recipe author
Servings: Approx. 16 slices
Preparation Time: Approx. 15-25 minutes + chill time
For the Raw Crust:
2 cups raw cashews
2 cups sun or shade dried raisins
For the Raw Cacao Filling:
1 cup raw honey
1 cup (approximately 1/2 pound cacao nibs) raw cacao nibs or raw cacao powder
2 tablespoons cold pressed extra virgin olive oil
Source organic, pesticide free ingredients.
Make the Raw Crust:
Process all ingredients in a food processor until mixture sticks together, retaining some texture, then press evenly into a 9 inch pie pan and allow to chill in the fridge while you prepare the filling.
Make the Raw Filling:
Process raw cacao nibs in a food processor until they are crumbly. Now add raw honey and olive oil, process again until mixture is smooth.
Pour filling into prepared raw crust and allow to set up in the fridge overnight. Best served cold.
Note: Enjoy a slice plain (with a cup of coffee), or drizzled with honey, or topped with your favorite fresh fruit. This rich pie has a very robust flavor because of the cold pressed olive oil. If you wish to make a milder tasting pie, virgin coconut oil may be substituted for the olive oil.
Recipe and photo by Orissa. Submit your creative coconut recipes and photos here! Published recipes are awarded a $50 gift certificate to Tropical Traditions!
Published on March 15, 2017