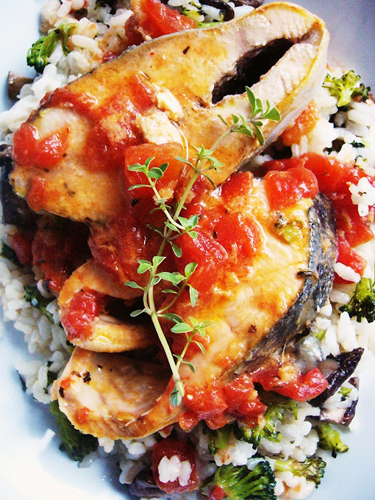 Salmon with Coconut Milk Sauce
photo by recipe author
Servings: 2-4
Preparation Time: 40 minutes
In a large pot, over medium heat, add 2 tablespoons of coconut oil and fresh ginger. Stir for a minute as the pan warms up. Add diced tomatoes to pot and cook while stirring for 3-4 minutes. Add 1 cup coconut milk, lower the heat, cover the pot and let simmer 12-15 minutes.
Rub coriander spice, salt and pepper into salmon steaks.
In a grill pan, over medium-high heat, add 2 tablespoons of coconut oil. Pour coconut sauce into the grill pan. Place all four salmon steaks in the pan, in the sauce. Cook salmon steaks for 8 minutes on each side (depending on thickness, time might be less).
Place salmon steaks on a bed of vegetable rice and spoon the coconut sauce over top. Serve hot!
Note: To make vegetable rice – prepare brown rice as usual, including half a cup finely chopped broccoli, 3/4 cup finely chopped mushrooms, and two minced garlic cloves.
*For the freshest coconut milk make homemade coconut milk. (See video at this link.)
Emily from Durham, North Carolina won $50 for this recipe and photo! Submit yours here!
Published on April 20, 2015