Scones are such a delicious treat for breakfast or lunch…or dinner. It's more of a breakfast pastry though, and can be either sweet or savory. I have a savory recipe for you today.
The key to keeping these scones fluffy, tender and moist is in minimal handling of the dough. Cut the very cold butter in just until it is in pea size-ish clumps, not until the flour looks like crumbs. Work the dough just until the excess flour is incorporated, adding a bit of milk if needed.
My scones are never dry. These scones are moist, tender, fluffy, and sooo cheesy! They're delicious! The not-so-secret ingredient in this recipe is the sour cream. It keeps the scone just as described.
I've added coconut flour for extra flavor and fiber. You can use whole wheat pastry flour in place of the all purpose flour if you like. The best results I've had were when I used one cup of the whole wheat and a half cup of the all purpose. But it's totally up to you: give or take. Just keep in mind that when you use whole wheat flour, you'll have to increase the amount of milk, as it's a pretty thirsty flour.
Oh, and a tip for getting the butter really cold? Stick it in the freezer for a few minutes. Do that first thing, even before you preheat the oven. By the time you've preheated the oven, assembled your ingredients, and whisked the dry stuff together, it'll be perfectly cold.
Humm….am I making this sound complicated? Seriously, it's not! Scones are actually pretty easy to make – like baking powder biscuits. Baking powder biscuits are easy to make, right?
Right.
Well, that's all for now. Have a question? Something to say? Drop me a comment below!
Sarah:)
Savory Cheese Scones with Coconut Flour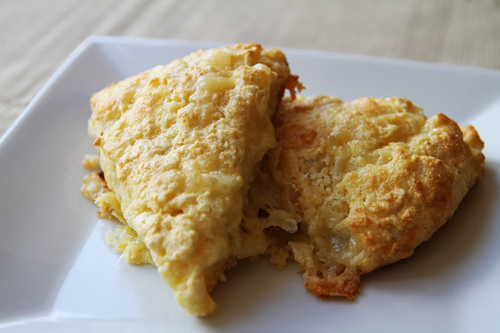 Savory Cheese Scones with Coconut Flour
Prepared by Sarah Shilhavy, Photo by Jeremiah Shilhavy
Servings: 8 scones
Preparation Time: 15 minutes
1 1/2 cups all-purpose flour*
1/4 cup coconut flour
1 tablespoon sugar
4 1/2 teaspoons baking powder
5 tablespoons salted butter, very cold
5-6 ounces cheese, cut into tiny cubes
1/2 cup plus 2 tablespoons milk
1/3 cup sour cream
1 egg
1-2 tablespoons milk or water
Preheat the oven to 400 degrees F.
Whisk the flours, sugar, and baking powder in a medium sized bowl.
Cut butter in using a pastry blender or your hands just until it is in pea sized clumps (or a bit bigger, just don't over-do it). Stir in the cheese cubes.
Mix the milk and sour cream together and pour into the dry ingredients all at once. Stir gently until blended. Add a bit more milk if needed. (You can knead the dough on a work surface instead of stirring in the bowl if desired. Either way, keep the handling of the dough to a minimum. Overworking the dough = yuck!)
Dump the dough unto a work surface while there is still a little un-absorbed flour left. Pat into a fat circle, flip over, and pat the circle out to 3/4-1/2 inch thickness. Cut into 8 wedges.
Arrange scones in a circle on an ungreased jelly roll pan, placing them fairly close together. Beat egg and milk/water together and brush over the scones. Let rest for 5-10 minutes.
Bake scones for 15-20 minutes, or until the tops and bottoms are a light golden brown. Enjoy while hot!
*You may use half or all whole wheat pastry flour for the all purpose. Add more milk as needed.
Recipe courtesy Sarah Shilhavy
Published on March 10, 2010