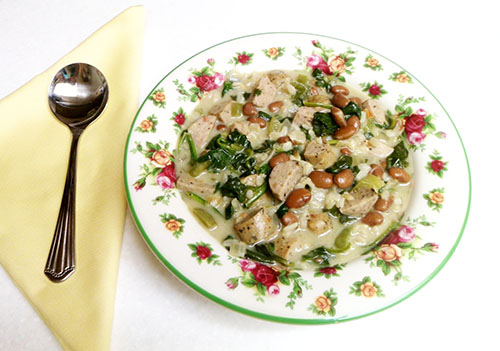 Savory Coconut Milk Sausage Soup
photo by recipe author
Servings: 4-6
Preparation Time: 30-35 minutes
2 tablespoons coconut oil
1 medium onion, diced
1 large green bell pepper, diced
2 tablespoons garlic, minced or pressed
2 teaspoons ground cumin
2 cups pinto beans, precooked or drained and rinsed if using canned
2 cups coconut milk*
6 ounces fresh spinach, chopped
1 pound precooked sausage, cut into bite-size pieces
2 cups cooked brown rice
Himalayan pink salt, to taste
black pepper, to taste
Heat coconut oil in a soup pot over medium heat and saute the onion, bell pepper, and garlic until soft, about 8-10 minutes.
Add the cumin and pinto beans, stir well.
Add the coconut milk, spinach, sausage, and rice.
Cover the pot and heat to serving temperature. Season to taste with salt and pepper.
Note: If a thinner soup is desired add more coconut milk or water.
Homemade Coconut Milk:
*For the freshest coconut milk make homemade coconut milk. (See video at this link.)
Stephanie from Sierra Madre, CA won $50 for this recipe and photo! Submit your recipes here!
Published on December 14, 2016