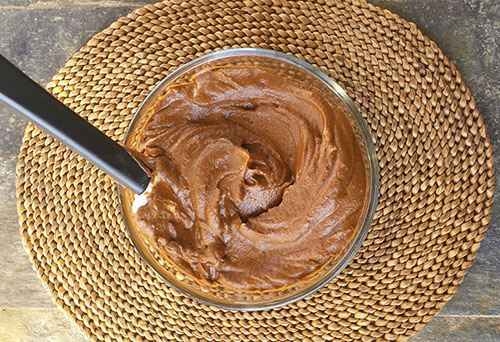 Secret Ingredient Silky Chocolate Coconut Frosting
photo by recipe author
Servings: Makes approximately 1.5 cups frosting
Preparation Time: 10 minutes
Melt coconut oil in a small saucepan. Remove from heat and immediately add Coconut Cream Concentrate and raw honey to soften them, mixing well.
In a food processor, combine pumpkin puree, cocoa powder, vanilla, and salt. Add the melted oil, honey, and Coconut Cream Concentrate then blend until smooth and creamy.
Now it is ready to frost a cake or cupcakes, or transfer to a covered bowl and refrigerate until ready to use. Frosting will thicken when cold.
Lynelle from Columbia, KY won $50 for this recipe and photo! Submit your recipes and photos here!
Published on March 11, 2017