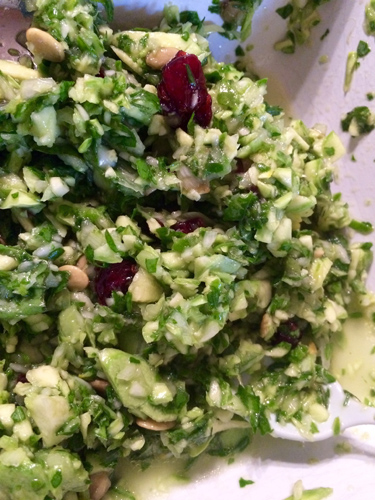 Shredded Zucchini Salad with Coconut Water Vinegar
photo by recipe author
Servings: 2
Preparation Time: 20 minutes
1/2 pound zucchini or summer squash, grated or shredded
1 tablespoon mint, chopped
1 tablespoon dill, chopped
1 green onion, sliced
1/2 lemon, juice and zest
1 tablespoon extra virgin olive oil
1 clove garlic, finely chopped or grated
1 tablespoon coconut water vinegar
1 tablespoon raw honey
salt and pepper to taste
1 tablespoon chopped nuts of choice, optional
1 tablespoon dried cranberries or raisins
1/4 cup feta or goat cheese, crumbled
Shred zucchini and place in clean towel and squeeze dry.
Put zucchini, mint, dill, and green onions in a large bowl. In a small bowl, mix the lemon juice, zest, olive oil, garlic, vinegar, honey, salt and pepper. Combine bowls and then add nuts, cranberries, cheese and lightly toss. If bolder flavors are desired, add more dill, mint, lemon and garlic.
Chill in the fridge for several hours or overnight before serving, if desired, to allow flavors to optimize. It is just as tasty when served immediately.
Cheryl from Carbondale, IL won $50 for this recipe and photo! Submit yours here!
Published on June 17, 2015