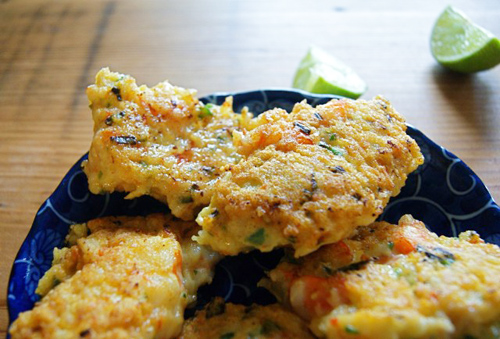 Shrimp and Coconut Fritters
photo by recipe author
Servings: 6
Preparation Time:  15 minutes
1 1/2 pounds raw shrimp, peeled and deveined
1/2 cup unsweetened, shredded coconut
1 egg
2 green onions, trimmed and chopped
1 teaspoon freshly grated ginger
1/4 teaspoon salt (or to taste)
1/4 cup coconut oil, to fry the fritters
Coarsely chop half of the shrimp, and set them aside. Place the rest of the shrimp in a food processor along with the coconut, egg, green onions, ginger, and salt. Pulse until you have a chunky paste. Transfer the paste to a mixing bowl, and fold in the chopped shrimp.
Heat enough coconut oil to just cover the bottom of your skillet. Adjust the heat to medium-high, and drop in the fritter batter in portions of about a quarter of a cup. Cook for 2-3 minutes per side, or until golden and cooked through. Remove the cooked fritters to drain on paper towels. Serve hot. This makes about ten fritters.
Angela from Longmont, CO  just won $50 for this recipe and photo! Submit yours here.
Published on January 23, 2015