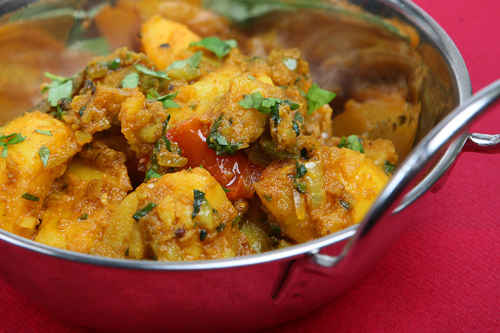 stock photo
2 tablespoons coconut oil
1 medium onion, sliced
1 clove garlic, crushed
1 medium zucchini, cut in 1 inch sticks;
1 medium yellow squash, cut in 1 inch sticks;
7 – 14 oz coconut milk*
1 – 2 tablespoons curry powder
0.75 – 1 pound peeled shrimp
Heat coconut oil in a skillet and add onion, garlic, and vegetables. Sauté to the desired consistency. Add curry powder and coconut milk.
Add shrimp last and cook until pink. You can sauté the veggies a little less if you want to cook down the coconut milk and let the sauce thicken.
Serve alone or with a small side of rice or baked sweet potato.
*Use 1 teaspoon of coconut cream concentrate for every 6-8 oz of water for coconut cream milk. Mix together and use as directed or make homemade coconut milk.
Recipe submitted by Brandon, Austin, TX
Published on August 26, 2009