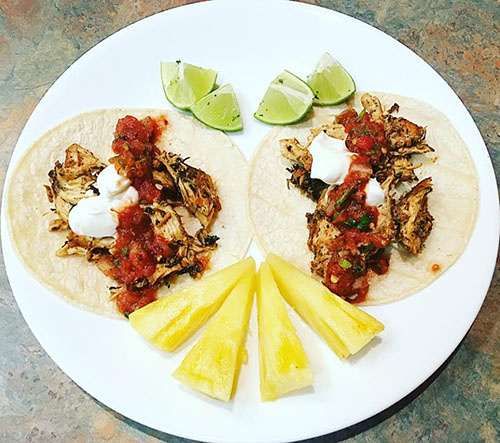 Skillet Chicken with Jalapeño Lime Sauce for Soft Tacos
photo by recipe author
Servings: 4 (2 soft tacos per person)
Preparation Time: 25-30 minutes
6 chicken tenderloins
1 tablespoon coconut oil
1/4 cup onion, diced
3 garlic cloves, minced
1 whole jalapeno pepper, grated
1 cup chicken broth*
1 large lime, zested and juiced
1/4 cup fresh cilantro, chopped
1 teaspoon ground paprika
1/2 teaspoon ground cayenne pepper
1/3 cup heavy cream
salt and pepper, to taste
Season the chicken tenderloins with salt and pepper on both sides.
On medium heat, melt coconut oil in a large skillet. Once the skillet is hot, add the chicken. Sear the chicken for approximately 5 minutes per side then remove from the skillet. Set aside.
Add onions, garlic, and grated jalapeno to the skillet. Saute for 2-3 minutes to soften. Then add the chicken broth, lime juice, lime zest, chopped cilantro, paprika, and cayenne pepper. Stir the mixture, then add the chicken breasts back to the skillet. Simmer the chicken in the sauce for 7-8 minutes, turning the chicken once or twice in this process.
Simmer the chicken in the sauce for 7-8 minutes, turning the chicken once or twice. Then stir in the heavy cream and salt and pepper to taste. Simmer another 1-2 minutes. Remove from heat and shred the chicken.
Serve shredded chicken on warm corn tortillas with sour cream, slices of lime, fresh salsa, and ripe pineapple.
Recipe and photo by Orissa. Submit your recipes and photos here for a chance to win $50!
Featured Product
This marine fossil salt, harvested from the foothills of the Himalayas, is 100% natural, unrefined and unpolluted pink, translucent crystals. Its subtle, crunchy texture, raw or cooked, makes a unique and delightful addition to any savory fare.
Himalayan Salt History
Since ancient times, salt has been the principal source of income for people living in those remote regions. Because food preserved in salt retains its nutritional properties for several months, Himalayan people use it to keep fish and meat all year long. They also use it as a currency in trading. For centuries, once a year in springtime, the Himalayan people have been transporting the salt to the Nepalese valleys for trade. Heavily burdened yaks carry the salt, traveling along narrow sloping paths, often these paths have been carved in cliffs. Once they have arrived at their destination, the salt is traded for cereals, which is the staple of the diet for these Himalayan salt traders. It is easy to understand why salt has always been so precious for mankind.
Published on April 22, 2017