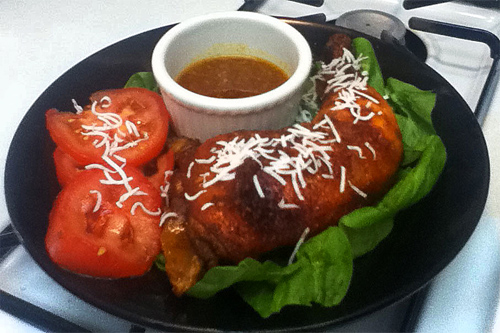 Slow Baked Curry Coconut Chicken
photo by recipe author
Servings: 2
Preparation Time: 25 minutes (plus cook time)
1/2 pound organic pastured chicken
1/2 cup organic coconut oil, melted but not hot (or use olive oil)
salt, to taste
1-2 teaspoons black pepper
1/2 teaspoon saffron (optional)
1 teaspoon red paprika
3 tablespoons honey (optional)
1/2 cup water
1-2 teaspoons fresh ginger
1-2 cloves fresh organic garlic
1/4 large sweet organic onion – or 1/2 small onion (your choice)
1 cup coconut water/juice or 14 oz coconut milk*
1 tablespoon Thai red curry paste
1 teaspoon cumin
1 teaspoon cinnamon
Defrost the chicken overnight in fridge then you can either leave it in tact or cut in pieces. If you have a larger family you can cook 1 lb chicken to feed family of 4.
Spread the coconut oil all over the skin of the chicken, then sprinkle on the salt, pepper, saffron and red paprika. Place in a baking dish and set aside. If you do choose to use honey, also gently drizzle over the chicken skin. It will give it a nice browning texture and sweetness to the skin.
Sauce:
Place remaining ingredients as well as additional salt and pepper to taste in a blender. Blend all together until well mixed, but still a little chunky.
Gently pour sauce in baking dish and some on top of the chicken. Cover the chicken dish and cook slowly on oven temperature of 275 degrees for 2-3 hours or until fully cooked. The last 1/2 hour, remove cover and cook uncovered to brown.
It is best cooked slowly so it is more tender and delicious. Remember to check it every 1/2 hour.
Recipe submitted by Lisa, Orange, CA
Published on July 4, 2011