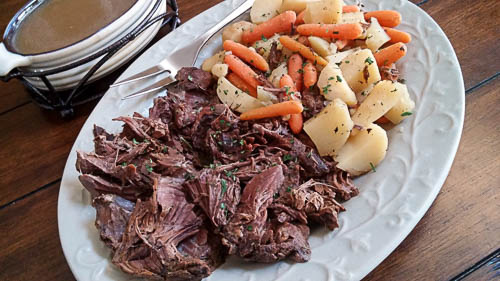 Slow Cooker Balsamic Pot Roast with Vegetables
photo by recipe author
Servings: 8
Preparation Time: 6-8 hours
In a large skillet, heat coconut oil. Place whole roast into hot skillet and sprinkle with salt and pepper. Brown roast on each side for about 5 minutes.
Place roast in a slow cooker with carrots, potatoes, parsnips, garlic and onion. Add in stock, vinegars, bay leaves, sage and thyme.
Cook over low heat for about 6 hours.
When roast is done cooking, remove about 1 1/2 cups of liquid and put in a small saucepan. Add in starch and whisk until smooth.
Bring to a low boil and remove from heat.
Place gravy sauce into a serving dish. Remove roast from slow cooker and cut or shred as desired.
Serve with gravy and vegetables. Top with parsley if desired.
Courtney from Columbus, KS won $50 for this recipe and photo!  Submit yours here!
Published on March 11, 2015