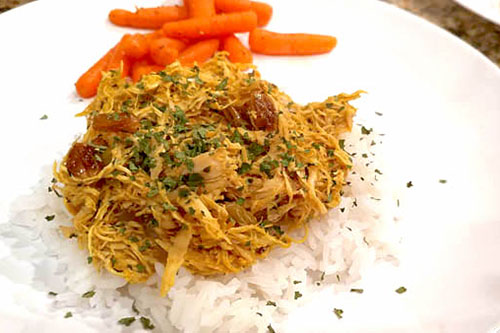 Slow-Cooker Moroccan Chicken and Rice
photo by recipe author
Servings: 6
Preparation Time: 4 hours, slow-cooker
1 tablespoon coconut oil, melted
1 onion, diced
6-8 boneless chicken thighs
1 teaspoon salt
1/2 teaspoon black pepper
1 teaspoon ground turmeric
1 teaspoon ground paprika
1/2 teaspoon ground cinnamon
1 tablespoon fresh cilantro, minced
1/2 teaspoon ground chili powder
2 cloves fresh garlic, minced
1 cup golden raisins
1/2 cup green olives, chopped
1 lemon, sliced into strips
1/2 cup chicken broth (or water)
2 cups cooked rice
In a slow cooker, add coconut oil and onions. Place chicken thighs on top of onions and sprinkle with salt, pepper, turmeric, paprika, cinnamon, cilantro, and chili powder. Top with garlic, raisins, olives and lemon. Pour chicken broth (or water) on top of everything. Cook on high for 4 hours.
Serve over cooked rice.
Courtney from Weir, KS won $50 for this recipe and photo! Submit your recipes and photos here for a chance to win $50!
Published on March 25, 2017