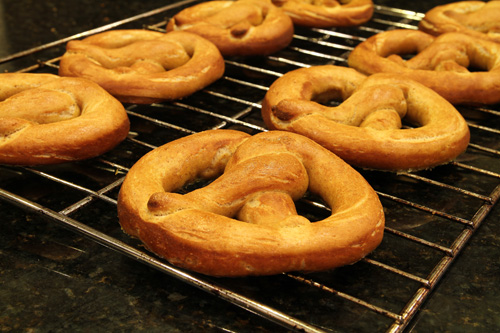 Soft Pretzels
Prepared by Sarah Shilhavy, Photo by Jeremiah Shilhavy
Servings: 10 large pretzels
Preparation Time: 1 hour
1 1/2 cups very warm water
1 tablespoon sugar
2 teaspoons salt
1 (.25 oz) package active dry yeast
22 ounces flour, about 4 1/2 cups (use about half whole wheat flour)
2 ounces coconut oil, melted (about 1/4 cup)
2 quarts water
1/2 cup baking soda
1 large egg yolk beaten with 1 tablespoon water, optional
Pour water into the bowl of a standing mixer and stir in sugar and salt until dissolved. Sprinkle the yeast on top but do not stir. Allow to proof for 5-10 minutes, until the yeast begins to foam.
Add the flour and coconut oil to the yeast mixture. Using the dough hook attachment, mix on low speed until well combined. Turn the speed up and knead until the dough is smooth and pulls away from the sides of the bowl, around 4 to 5 minutes.
Remove dough from the bowl. Oil the bowl with coconut oil and place ball of dough back in. Lightly grease the top of the dough ball. Cover the top of the bowl with a damp towel and let sit in a warm place for approximately 1-2 hours or until the dough has doubled in size.
Preheat the oven to 450 degrees F. Stir the water and baking soda together and bring to a boil in a large pot.
Turn the dough out onto a work surface lightly oiled with extra coconut oil and divide into 10 equal pieces. Roll out into pretzel shapes and place on cookie sheets lined with parchment paper and greased with coconut oil.
Place 1 pretzel at a time into the boiling water for 30 seconds. Remove with a large, flat spatula and place back unto lined cookie sheets. Brush with optional egg wash if desired.
Bake until dark golden brown in color, 12 to 14 minutes. Transfer to a cooling rack and serve with melted butter, salt, cinnamon sugar and other toppings/dips of choice.
Recipe courtesy Sarah Shilhavy
Published on February 8, 2010