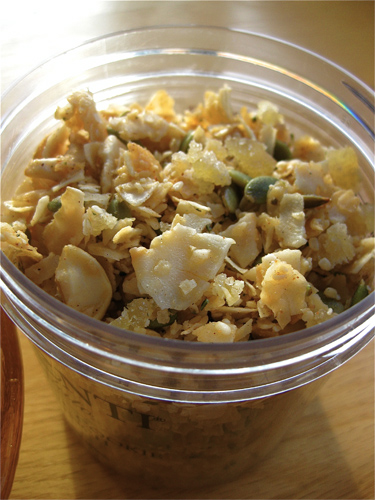 Spiced Coconut Crunch Recipe
photo by recipe author
Servings: approx. 6 cups
Preparation Time: 10 minutes
4 cups coconut chips
1 cup raw cashews
1/4 cup raw pepitas (pumpkin seeds)
1/4 cup hemp seeds
1 teaspoon
flaxseed meal (optional)
pinch of sea
salt
3/4 teaspoon
nutmeg
1/4 teaspoon cardamom
1/4 cup melted
coconut oil
scant 1/2 cup
maple syrup
optional 1/2 cup chopped candied ginger
Preheat oven to 245 degrees ºF.
In a large bowl combine all of the dry ingredients including the salt and spices. Pour the melted coconut oil and the maple syrup over the mixture and stir to coat evenly. Spread out in an even layer on an 18×13″ baking tray or jelly roll pan.
Bake for 30 minutes and then turn and stir gently with a spatula and redistribute into an even layer. Let bake for 15 to 20 minutes more until a light golden brown. Let cool. Transfer to a bowl and add chopped candied ginger if using.
Store in an airtight container or containers at room temperature.
Karen from Quincy, CA just won $50 for this recipe and photo!
Submit yours here.
Published on April 21, 2014