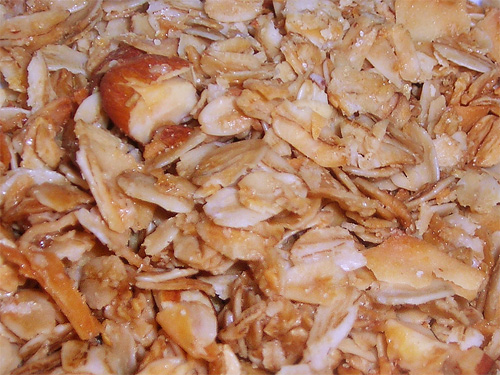 example photo shown
Melt oil in crock pot then stir in other ingredients in order. Cook on low for 5 hours or until brown, stirring occasionally. Make sure you keep the cover cracked on the crock-pot. The more frequently you stir, the finer the consistency. If you prefer clumpier granola stir less.
Options:
Add raisins
Dried fruit
Nuts
…whatever you desire
Good as a hot or cold cereal, as a snack, a topping for yogurt or made into granola bars, see below.
Quick Granola Bars
2 eggs, beaten
2 cups Crockpot granola (see above)
½ cup of optional ingredients
Preheat oven to 350. Combine all ingredients together. Place in lightly greased 8×8 pan. Bake for 15 minutes. Cut into bars. Cool.
Variations to add:
Dried fruits and nuts
Some kind of other chip
Recipe submitted by: Sharla, Nampa, ID
Published on March 25, 2009