I supposedly don't like zucchini bread. I never actually said so, but I always thought so in the back of my head. I suppose it was because I had eaten a few too many that I really just didn't care for.
Zucchini bread is supposed to be good. Number one, it's a veggie pretending to be something of a dessert in a sweet bread. Two, it has a wonderful blend of spices perfect for this time of the year and three; it's a quick, sweet bread. But for whatever reason, I didn't like it.
This recipe however, I liked. Even the batter tasted good. Whoops. Now you know I'm one of those batter and cookie dough tasters.
While baking the bread puffed up and looked delectably fluffy and moist. The aroma of the spices was wonderful and when the loaf came out I was delighted to see that a crispy, golden top had formed. (That's the best part by the way). Each slice was sweet but not too sweet (but if you think so feel free to cut back on the sugar), airy yet dense, moist, and filled with the gentle taste of the spices and subtle crunch of the chopped nuts. Perfect. I made this with half whole wheat pastry flour and half all purpose but next time I'll do all whole wheat pastry.
So my point is, it's not zucchini bread I don't like; it's certain recipes that I don't like. What things do you say you don't like? Have you simply tried a different recipe for it? You just might be surprised.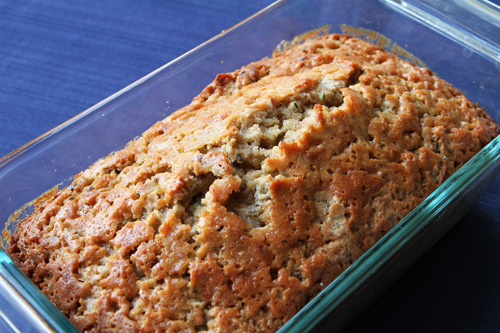 Spiced Zucchini Bread with Coconut Oil
Prepared by Sarah Shilhavy, Photo by Jeremiah Shilhavy
Spiced Zucchini Bread
Servings: Makes 2-3 loaves, 24 slices
Preparation Time: 15 minutes
Heat oven to 350 degrees F. Grease bottoms only of 2 loaf pans.
Mix sugar and coconut oil in large mixing bowl until no lumps remain. Stir in zucchini, water and eggs. Mix in flour, baking soda, salt, cinnamon, cloves, vanilla and baking powder; stir in nuts and raisins. Pour into prepared pans.
Bake until toothpick (or cake tester) inserted in the center of loaf comes out clean, about 60-75 minutes. Cool for five minutes. Then loosen sides of loaves from pans and remove. Cool completely before slicing.
*For best results use 50% to 100% whole wheat pastry flour.
Recipe submitted by Eric, South Whitley, IN
Published on December 5, 2009