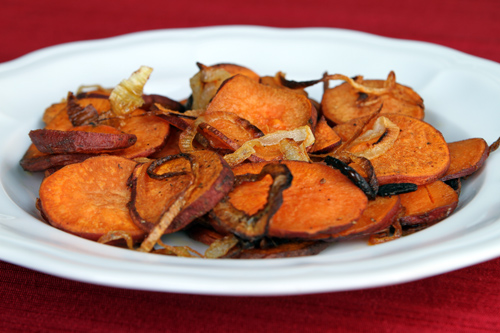 Spicy Roasted Sweet Potatoes
Prepared by Sarah Shilhavy, Photo by Jeremiah Shilhavy
Servings: 4
Preparation Time: 60-70 minutes
2-3 large sweet potatoes sliced 1/8 – 1/4 inch thick, with skin or without (remove blemishes)
1/2 large onion sliced
3-4 garlic cloves sliced
2-3 teaspoons seasoning combination of choice (garlic powder, onion powder, or other mix)
2-3 tablespoons coconut oil
Preheat oven to 425 degrees F.
Place sliced sweet potatoes, onions and garlic in a roasting pan or casserole dish. Mix roughly. Sprinkle generously with seasonings. If using a purchased seasoning containing salt omit additional salt. Drop coconut oil on top.
Bake uncovered in preheated oven.
Every 20 minutes stir/flip potatoes to evenly distribute. Cook until potatoes and onions begin to look crispy on the edges, approximately one hour.
Other potatoes may be substituted or combined with sweet potatoes.
Recipe submitted by Dakotah, Winfield, KS
*Sarah's notes: For the potatoes in the picture, the seasoning combo I used was a light sprinkle of all purpose seasoning, salt, freshly cracked pepper, sprinkle of cayenne pepper, and garlic powder. Delish.
Published on September 18, 2010