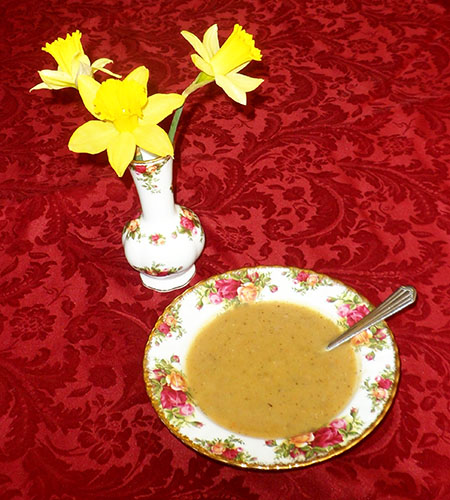 Split Pea Vegetable and Chicken Sausage Soup
photo by recipe author
Servings: 6-8
Preparation Time: 20 minutes
2 tablespoons coconut oil
1 large onion, diced
1 cup carrots, diced
1 cup celery, diced
10 cups homemade chicken broth*
2 cups peeled and diced russet potatoes
2 cups green split peas, rinsed
2 teaspoons dried marjoram
2 teaspoons Himalayan salt
¾ teaspoons black pepper
1 bay leaf
½ cup grated Parmesan cheese
1 ½ cups skinless, fully cooked chicken sausage, diced
Source ingredients that you know are pesticide free.
Recipe for homemade chicken broth here.
Heat coconut oil in a stock pot over medium heat. Add the onions and sauté until soft and just beginning to brown, about 7-8 minutes. Add the carrots and celery and cook for another minute, stirring a few times.
Stir in the broth, potatoes, split peas, marjoram, salt, black pepper, and bay leaf. Bring soup to a boil, then reduce heat to low-medium, cover pot and simmer for 60 minutes, or until the split peas are fully cooked.
Remove the bay leaf, stir in the Parmesan cheese, and remove from heat. Puree the soup in the pot using an immersion blender or in batches in a blender or food processor (then return soup to pot).
Add the diced sausage and heat gently just to serving temperature. Taste and adjust salt and pepper if needed before serving.
Stephanie from Sierra Madre, CA won $50 for this recipe and photo! Submit your recipes and photos for a chance to win $50!
Published on March 31, 2017