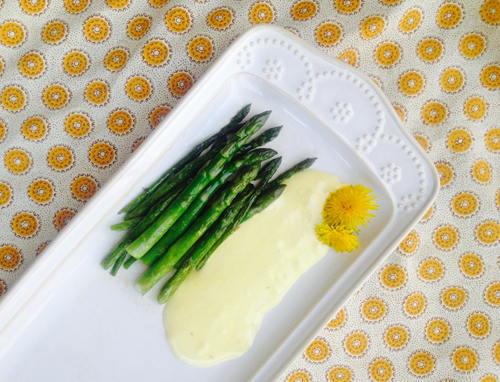 Spring Asparagus with Homemade Garlic Aioli
photo by recipe author
Servings: 2
Preparation Time: 10 minutes
Asparagus:
Aioli:
Asparagus:
Place 1 tablespoon gold label coconut oil in a small pan over medium heat. Add asparagus and 1 teaspoon salt, gently stirring until asparagus is lightly sautéed and softened.
Aioli:
Add egg yolk, garlic cloves, salt, lemon juice, and mustard to a blender (or food processor.) Blend until well combined. Keep your blender going at medium speed as you begin to add olive oil and coconut oil in, a few drops at a time. After you have put about 15-20 drops of oil into the blender, begin adding the oil in a small, steady stream. Add the tablespoon of whey (or pickle juice) and mix briefly. Serve warm or chilled.
Note: Leftover aioli will keep in a sealed jar in the refrigerator for up to a week. It's delicious on sandwiches, fish, as a dip for vegetables, or over rice.
Marijah from Columbia, KY won $50 for this recipe and photo! Submit yours here!
Published on April 13, 2015