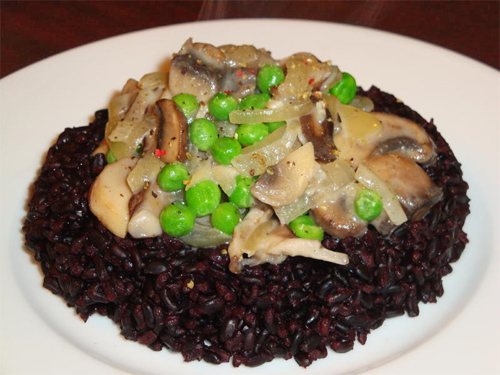 Spring Wild Mushroom & Pea Ragout
Photo by recipe author
Creamy, delicious and comforting without being heavy, this dish is perfect for early spring when you want something fresh and light, yet still comforting and satisfying. The combination of sweet, brightly colored peas, flavorful, hearty mushrooms and onions with the tender, delicate and distinctive Forbidden rice and a hint of sweet coconut is a visually pleasing, heavenly smelling, delicious tasting treat for all the senses!
Servings: 4-8
Preparation Time: 30 min
1 onion, thinly sliced and cut into 1 inch strips
1 tablespoon coconut oil
1/4 cup white wine
1-2 tablespoons coconut cream concentrate
1-2 cloves garlic, finely chopped
4 oz mixed wild mushrooms, sliced
4 oz baby bello or white mushrooms, sliced or chopped
1/4 teaspoon thyme
3/4 cup milk, cream or coconut milk*
1 cup frozen peas, thawed
1 cup Forbidden or Red heirloom rice, prepared to package directions
1/2 lb sautéed ground beef or bison may be added if desired to make this meal even more hearty and nourishing, although it is wonderful the way it is.
In a preheated cast iron skillet, sauté onion with coconut oil and salt until softened and translucent. Add wine and stir until absorbed. Stir in coconut cream. Add garlic and mushrooms, season with salt, pepper and thyme, sautéing until mushrooms are mostly cooked through. Slowly add milk a bit at a time while stirring. Stir in peas, heat through, season with salt and plenty of pepper to taste.
Serve over rice for a visually pleasing and satisfying main dish or combine with the rice for a wonderful side dish.
Recipe submitted by Lydia, Salem, VA
*Use 1 teaspoon of coconut cream concentrate for every 6-8 oz of water for coconut cream milk. Mix together and use as directed or make homemade coconut milk.
Published on March 26, 2010