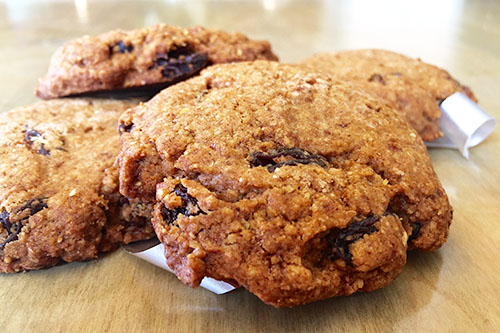 Sprouted Flax and Raisin Cookies
photo by recipe author
Servings: 20 cookies
Preparation Time: 45 minutes
1 cup sprouted flax meal
1 cup tapioca flour
1/4 cup coconut flour
1/2 cup whole cane sugar
1 teaspoon salt
1 teaspoon baking soda
2 tablespoon Ceylon cinnamon
1/2 cup butter or ghee, melted
1 tablespoon vanilla extract
2 large eggs
1.5 cups raisins
Preheat oven to 375° degrees.
In a large bowl, combine dry ingredients. Add in the wet ingredients and mix until well combined. Fold in the raisins.
Use a regular size cookie scoop to place batter on a greased cookie sheet. Flatten the balls slightly.
Bake about 12 minutes.
Cool cookies on a cooling rack; serve with your favorite milk beverage.
Jenny from Hendersonville, TN won $50 for this recipe and photo! Submit your recipes and photos here! for a chance to win $50!
Featured Product
Our brown flax seeds are completely raw and unprocessed. They were grown in Italy and are traceable back to the farm that raised them. The farm is certified organic and a sample of the seeds were lab tested for the presence of glyphosate and none was found.
Learn more about the unique nutritional qualities of flax seeds here.
Flax seeds can be enjoyed in a number of ways from raw, soaked, sprouted, boiled or ground and can be treated as you would other seeds or nuts. However, flax seed must be finely cut into a meal to get maximum benefits of the OMEGA-3 oil and dietary fiber. We recommend that you buy a coffee grinder and dedicate its use to grinding flax seeds. Once ground, the flax seeds should be consumed quickly, as the oil inside the seeds oxidizes rapidly.
The recommended daily amount of flax seeds to eat is about 1–2 Tbsp. The most beneficial amount for maximum nutritional value of ground flax seed is 2 tablespoons daily. It can be mixed into 10–12 oz. of juice or water. Make sure you use plenty of water when adding flax seed to your diet.
Ground flax seed can easily be added on top of dishes including: baked products, stir-fry dishes, soup or stews, cereal and yogurt.
Flax seed is 35–40% oil so a similar amount may be omitted from any recipe requiring oil that also includes ground flax seed. Similarly, about 1 Tbsp. of ground flax seed steeped in 3 Tbsp. of water for 2-3 minutes will substitute for one egg in recipes. Flax seed contains NO GLUTEN for those with gluten allergy.
Buy raw brown whole flax seeds here!
Published on April 26, 2017