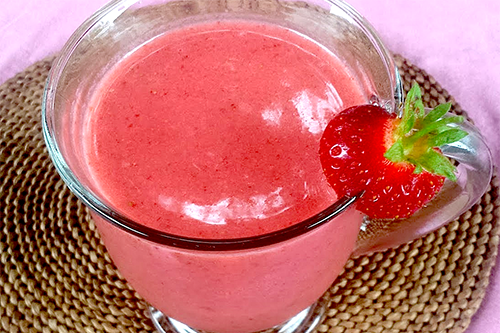 Strawberries 'N Cream Smoothie
photo by recipe author
Servings: 1
Preparation Time: 5 minutes
1 tablespoon Coconut Cream Concentrate
2 teaspoons honey
2 tablespoons warm water
3/4 cup cold water
1 1/2 cups frozen strawberries (or more to desired thickness)
Add Coconut Cream Concentrate and honey to blender with 2 tablespoons warm water. Blend until smooth.
Add cold water and frozen strawberries. Blend until smooth. Serve.
Recipe and photo by Lynelle. Submit your recipes and photos here for a chance to win $50!
Featured Product
Coconut Cream Concentrate is whole coconut meat in concentrated form. It is sometimes referred to as "coconut butter." It contains no additives* (not even water). The dried coconut meat is ground very finely, giving it a creamy consistency due to its high-fat content, much like other nut butters. Since it is 70% fat, it is a rich source of pure coconut oil. Note: this is a food, not a cooking oil.
See Sarah Shilhavy's article: 10 Different Ways to Eat Coconut Cream Concentrate
Buy it here!
Published on May 5, 2017