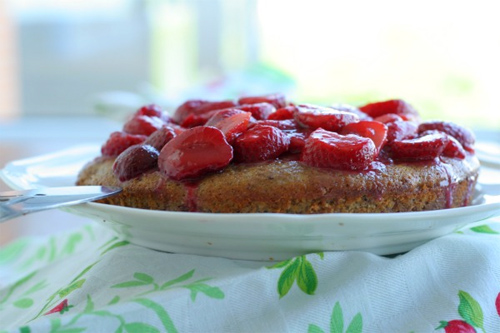 Strawberry Almond Cake Recipe
photo by recipe author
Servings: 2 8 inch round cakes
Preparation Time: 15 prep + 25 baking
Preheat oven to 350 F.
Prepare two 8-inch round cake pans by greasing the bottoms and side with a little bit of coconut oil. Lined the bottom of each pan with a round piece of parchment paper, this helps to remove the cake easily from the pan after baking.
In a large mixing bowl, place almond meal and baking powder, mix thoroughly.
In a separate medium sized bowl, beat eggs until light and fluffy.
Combine with dry mixture, along with virgin coconut oil, honey and vanilla. Stir cake mix well and then divide into the two cake pans.
Bake for 25 minutes.
Allow to cool for 1 hour before removing from pans.
Top with strawberry sauce and enjoy!
Recipe submitted by Emily, Ottawa, Canada
Published on August 17, 2012