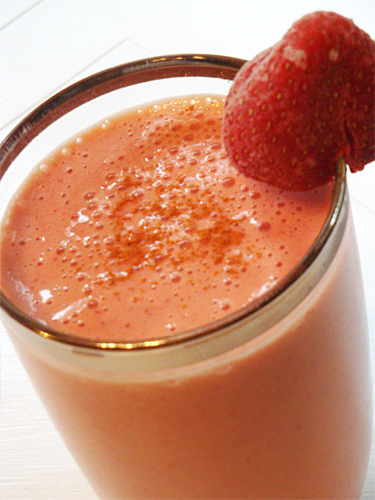 Strawberry Coconut Bliss Smoothie
Photo by recipe author
A deliciously thick and creamy "milkshake" for breakfast? Yes please! My version of a local ice cream parlor's favored treat, minus the guilt.
Servings: 2
Preparation Time: 5 minutes
Add kefir, desired amount of eggs, coconut oil and honey to the blender and combine thoroughly. The extra eggs and coconut oil provide even longer lasting satisfaction and energy.
Add vanilla, cinnamon and strawberries (adjust amount according to desired thickness) and blend on medium, then high speed until thoroughly combined, thick and creamy.
Garnish with additional strawberries and a sprinkle of cinnamon if desired. Enjoy immediately. A quick, easy, delicious and nourishing breakfast or afternoon snack!
Recipe submitted by Lydia, Salem, VA
Published on October 6, 2010