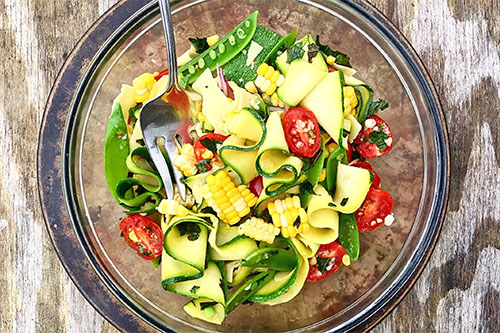 Summer's Rainbow Pappardelle
photo by recipe author
Servings: 6
Preparation Time: 30 minutes
3 garlic cloves, crushed
1 1/2 teaspoons salt
3 tablespoons white wine vinegar
1/3 cup coconut oil, plus more for drizzling
1 1/2 pounds multicolored cherry tomatoes, halved (quartered if large)
3 ears corn, shucked
1 1/2 pounds medium zucchini
8 to 9 ounces dried egg pappardelle
1/4 pound sugar snap peas, strings discarded and peas halved diagonally
1/2 cup thinly sliced red onion
1 cup small basil leaves, chopped
1/2 cup mint leaves, chopped
1/3 cup chives, chopped
Bring an 8-quart pot of water to boil.
While the water is coming to boil, crush garlic through a press into a large bowl, add 1/2 teaspoon salt, stir together. Add vinegar, coconut oil, and 1 more teaspoon salt, toss to combine. Add tomatoes to the bowl, toss gently, set aside.
Cook the corn in boiling water for 4-6 minutes; remove with tongs and allow to cool.
Peel lengthwise ribbons from zucchini until you see seeds and rotate until you have peeled the entire zucchini. (Reserve seedy core of zucchini for use in a soup.) Set aside ribbons in a different bowl.
Cut cooled corn from cobs; add to tomatoes.
Cook the pasta until al dente. Just before its done, stir in zucchini ribbons and snap peas, cook 15 seconds. Drain and add pasta and peas to tomato mixture. Add onion (if using), then toss gently.
Now add herbs and toss gently again. Serve.
Recipe and photo by Orissa. Submit your recipes here for a chance to win $50!
Published on August 7, 2017