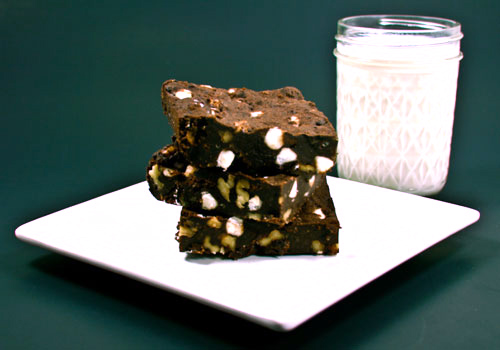 Super Fudgy Chocolate Walnut Brownies – Gluten and Grain Free
photo by recipe author
Servings: 9
Preparation Time: 10 minutes
1. Preheat the oven to 325. Grease a 8×8 pan with coconut oil or butter. Set aside.
2. In a double boiler start the butter, coconut oil, and chocolate chips melting over medium heat. You can also use a saucepan over very low heat, if you don't have a double boiler.
3. In a separate bowl, stir the coconut flour, cocoa powder, and sea salt together and set aside.
4. Continue to stir the melted chocolate mixture until smooth and then remove from heat.
5. Stir in the coffee, vanilla, and stevia powder.
6. Quickly whisk the eggs into the melted chocolate, followed by the flour/cocoa powder mixture. Stir until the flour is mixed in. The batter will be lumpy.
7. Fold the white chocolate chips and the walnuts into the batter.
8. Pour the batter into the greased pan.
9. Bake for 20-25 minutes. The brownies will seem underdone.
10. Remove from the oven and let cool completely before cutting.
Recipe submitted by Jessica, Denver, CO
Published on March 30, 2012