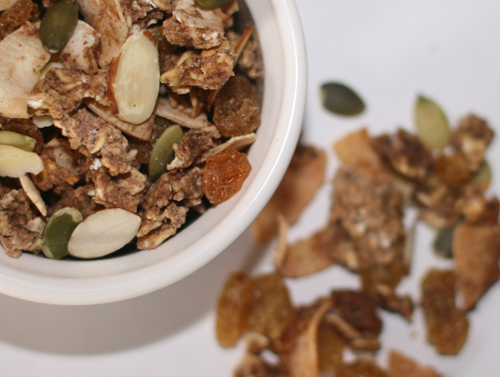 Super Nutty Granola Crunch
Photo by recipe author
Servings: 20
Preparation Time: 30 minutes
1 cup whole dates, pitted
2 large bananas
2 tablespoons cinnamon
1 cup hot water
1 lb. old fashioned rolled oats
1/2 lb. unsweetened coconut (flakes or chips)
1 lb. walnuts, chopped
1/2 cup raw pumpkin seeds
1/2 cup sliced almonds
2 cup golden raisins
Preheat oven to 250 degrees F.
In a blender, combine dates, bananas, cinnamon and water. Blend until smooth. Add more water a tablespoon at a time if mixture is too thick.
In a large bowl, mix together oats and date mixture until coated, breaking up very large clusters. Stir in dried coconut.
Bake in a thin layer on a baking sheet (must be done in small batches), stirring occasionally to desired crunchiness. About 1 to 1.5 hours.
Remove from oven and cool. Stir in walnuts, pumpkin seeds, almonds and raisins. Store in an airtight container.
Additional stir in ideas: Dried fruits or a combination of blueberries, strawberries, cherries, cranberries, etc.
Recipe submitted by Jo, Farmington, NM
Published on July 21, 2010