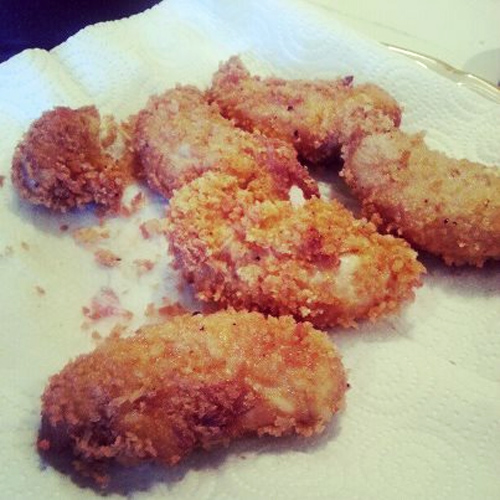 Sweet Tea Fried Chicken Tenders with Coconut Oil Recipe
photo by recipe author
Servings: 5
Preparation Time: 45 minutes
You will marinate the chicken tenders for at least 8 hours (I usually do 24 hours). Drain all sweet tea off of the tenders.
Mix the two eggs together well in one bowl for the egg wash. Mix panko, garlic salt and parmesan together in another bowl.
Dip each tender in the egg wash and let extra drip off then dip each tender in the bread crumb mixture.
Fry about 5 tenders at a time in a skillet with the virgin coconut oil for about 4 minutes on each side. Place chicken on a plate covered with paper towels to drain excess oil.
Serve with your favorite sides and dips for a delicious healthy friend chicken dinner.
*If gluten free, use gluten free breadcrumbs.
Recipe submitted by Lanie, Temple, TX
Published on December 4, 2013