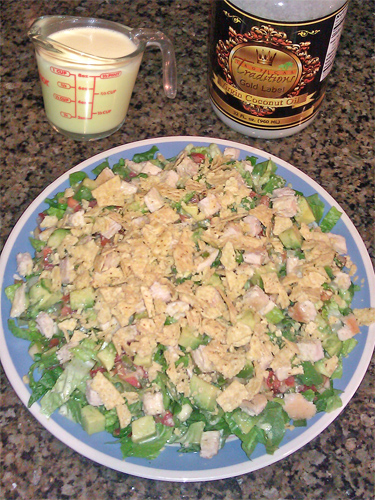 Tangy Coconut Lemon Chicken Salad
photo by recipe author
Not only is this salad full of amazing flavor, it's incredibly healthy as well! I give you permission to lick your plate afterwards too, as the dressing is so addicting! We do!
Servings: 2
Preparation Time: 45-60 minutes
Salad:
Pico de Gayo:
Dice all ingredients and mix well. This is best to make a while in advance as the longer the juices have to sit together, the better the pico tastes.
Ranch Powder:
Mix all ingredients together in a blender to create a nice, fine powder. I make this in mass quantity to always have on hand – plus I use it for many other things!
Coconut Lemon Dressing:
In a blender, combine eggs and lemon juice and blend on high. Add the ranch powder and blend again. Lastly, add the melted Gold Label Organic Coconut Oil, fairly slowly so the oil doesn't solidify (but not as slow as if making mayonnaise). Dressing should be fairly runny still, but frothy. You can adjust the lemon/coconut oil ratio up or down a bit, depending on your taste preferences – we like it nice and tangy with lots of lemon. Also, dressing is not nearly as good if made with store bought lemon juice – best with FRESH squeezed lemon juice.
Salad:
1. Melt 1-2 teaspoons Gold Label Organic Coconut Oil in a small fry pan. Sprinkle chicken with some of the dry ranch powder and brown both sides over medium heat until fully cooked. When cooked, cool enough to dice.
2. Assemble salad with chopped romaine lettuce, pico de gayo, diced avocado, and the cooked, seasoned chicken. Cover generously with the tangy coconut lemon dressing, and top with crunched up tortilla chips.
Recipe submitted by Jodi, Lehi, UT
Published on January 16, 2012