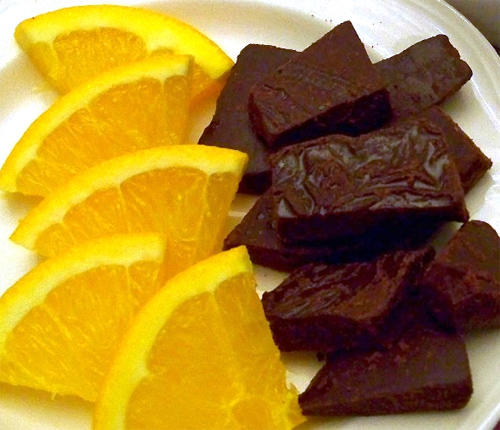 Tessera de Cocoa – Coconut Oil Chocolate Squares
photo by recipe author
Servings: 14
Preparation Time: 25 minutes
An intense chocolate treat blessed by the richness of organic fruit juice concentrate and the tropical flavor of virgin coconut oil. A typical serving is one piece (a mosaic-like tessera), but two or three pieces for an extended coffee break often become a symbolic "celebration of cacao".
In a small bowl, warm coconut oil and stir in cocoa. Add fruit juice concentrate (or concentrate mixture) and stir to complete intense flavor blend and to create a smooth texture.
Pour mixture into a flat bowl lined with wax paper (press a sheet of wax paper between two bowls), then sprinkle on toppings if desired.
Turn the second bowl upside down to create a temporary cover and refrigerate for several hours.
When firm in the center (chilled, but not completely hardened), slice into squares and store in a covered container in the refrigerator.
* Use single juice concentrate or mix several to create unique flavor combinations (try tart cherry, cranberry, elderberry, blueberry, pomegranate or black currant).
Recipe submitted by Rod, Dallas, TX
Published on February 29, 2012