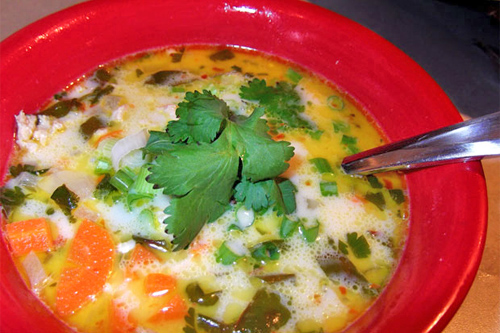 Thai Chicken Coconut Soup II
photo by recipe author
Servings: 6-8
Preparation Time: 15 minutes
1 pound chicken breast, cut into small chunks (you can use any kind of chicken you have on hand)
1 small sweet onion, chopped
3 large carrots, chopped
1 tablespoon chopped garlic
1 tablespoon chopped ginger
1/2 tablespoon of red pepper flakes (more or less depending on your heat tolerance)
1 quart chicken broth, preferably homemade
2 cups shredded chard or other greens
1/2 cup cilantro, chopped
1 lemon, juiced
1 bunch green onions, chopped
14 oz organic coconut milk*
salt to taste
In a large soup pot, brown the chicken and onions in a couple tablespoons of coconut oil. When the chicken is cooked through, add the chopped green onion, carrots and garlic. Sauté for 5 minutes. Add the ginger, red pepper flakes, and chicken broth.
Bring the soup to a gentle boil, reduce heat and let simmer, covered, for 20-30 minutes. Test the carrots for tenderness. Add chard, cilantro, lemon juice, green onions, and coconut milk. Continue cooking for about 10 minutes. Check for salt and adjust accordingly.
Note: Adjust the ginger and red pepper flakes to taste, depending on your spice tolerance level.
* For the freshest coconut milk make homemade coconut milk. (See video at this link.)
Recipe submitted by Jessica, Denver, CO
Published on October 24, 2011