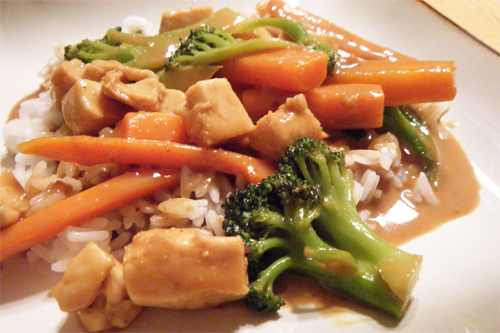 Thai Pra Ram Chicken with Peanut Sauce
photo by recipe author
Servings: 4-6
Preparation Time: 25-40 minutes
3-4 chicken breasts, cooked and cut into cubes or strips
2 cups carrots & broccoli, or stir-fry vegetables
cooked jasmine rice
SAUCE:
Cut chicken into cubes or strips (and boil if raw). Cut carrots and broccoli into small/medium pieces.
Combine sugar, peanut butter, soy sauce, water, coconut oil, and garlic in a saucepan over medium heat. Heat until bubbling, then reduce heat to medium low. When peanut butter and sugar are completely dissolved, slowly add coconut milk, stirring until the sauce is a nice caramel color. Add curry powder and red pepper flakes, stir, and simmer on low to thicken.
Place vegetables in a wok with about an inch of water, cover, and cook on medium-high until vegetables are mostly soft. Drain water, and add chicken and sauce to the wok. Stir until everything is combined and hot.
Serve over a bed of jasmine rice.
* For the freshest coconut milk make homemade coconut milk. (See video at this link.)
Recipe submitted by Anna, Franklin, WV
Published on December 2, 2011