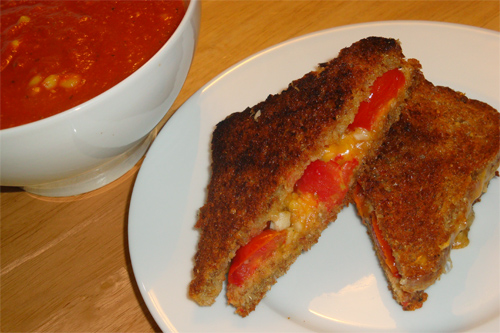 Three-Cheese Tomato Garlic Grilled Cheese Sandwiches
Photo by recipe author
Wonderful with tomato soup, this is the perfect cozy, comforting and healthy meal! Coconut oil is a fantastic alternative to the traditional butter and produces perfectly crisp, mouth-watering results. We love all that good for you, delicious garlic in these, but feel free to adjust according to taste!
Servings: 2
Preparation Time: 10 min
4 slices hearty sprouted grain bread
2 large slices (or enough small ones to cover 2 pieces of bread) raw milk sharp cheddar cheese
4 cloves garlic, finely minced (more or less according to taste)
fresh cracked pepper
seasoning salt and/or steak seasoning of choice
10 organic grape or cherry tomatoes, halved
2 large slices Colby Jack cheese
2 tablespoons coconut oil
Preheat cast iron skillet to medium heat. For each sandwich assemble in this order: bread, cheddar, half the garlic, pepper and seasoning to taste, half the tomatoes face down, colby jack, bread.
Melt the coconut oil in the skillet and cook the sandwiches on one side until the cheese on the bottom half is melted and the bread nicely crisped and golden, then the other side until the same. Serve immediately and enjoy!
Recipe submitted by Lydia, Salem, VA
Published on May 14, 2010