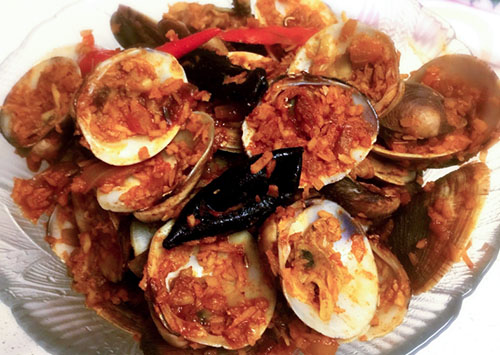 Tisrayanche Suke / Goan Clams Dry
photo by recipe author
Servings: 4
Preparation Time: 50 minutes
1.1 pounds fresh clams
1/2 cup dried coconut
1 large onion, finely chopped
1-2 green or red chilis (not dry) slit into halves
4-5 Kokum / Gracinia indica
1 teaspoon red chili powder
1 teaspoon turmeric powder
salt to taste
some water
Open clams into halves using a sharp knife. Then lift all the flesh from one shell, and drop it in the other and discard the shell with no flesh. Repeat for all the remaining clams.
Wash clams well in pure water 3-4 times then coat in turmeric powder and set aside for 10 minutes.
In a heavy bottom vessel, add these clams, and cook uncovered on medium high heat for 5 minutes, stir occasionally. (If you feel the clams are too dry, then add a tablespoon of water. Usually you do not require water for this.)
Now add dried coconut, chopped onions, slit chilis, and red chili powder. Mix well. Cover and cook on medium high heat for 10-15 minutes. Check in between for dryness. Add water if required but keep in mind this recipe needs to be very dry. After 15 minutes, add kokum and salt to taste.
Mix well and cook another 2 minutes then switch off the stove. Serve with fish curry rice.
Pooja from Fort Worth, TX won $50 for this recipe and photo! Submit your recipes and photos here!
Published on February 15, 2017