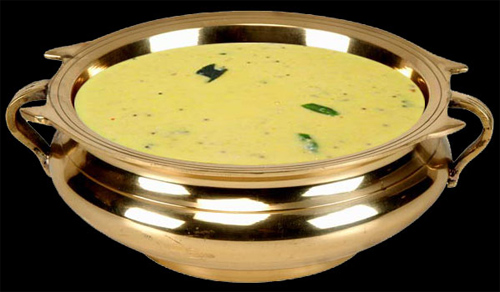 Traditional Coconut Buttermilk Gravy
Photo by recipe author
This is the traditional recipe from a southern state in India, Kerala, which is named after coconuts. The name of the state Kerala is derived from Kera which means coconuts in the native language Malayalam and is called Land of Coconuts. So, ideally any recipe from Kerala has coconut as one of the main ingredients.
This dish usually goes well with rice and is considered as one of the major unavoidable constituent of any South Indian Lunch. The main ingredients of this dish are buttermilk, coconut and spices.
Servings: 4
Preparation Time: 15 Minutes
Grind coconut, cumin seeds, turmeric powder and red chilies very well in a mixer/grinder by adding little buttermilk to make a smooth paste. Once this mixture is very well ground, add the remaining buttermilk and blend it well. Now, the gravy is ready. Add salt as required.
Heat a cooking pan, add 2 tablespoons of coconut oil. Once the oil gets warmed, add mustard seeds, curry leaves and 1 red chili. Wait until the mustard seed splutters. Pour the gravy into the pan and let it warm for a few seconds (do not allow it to boil). Turn off the heat.
The coconut buttermilk gravy is ready to be served with steamed rice.
Recipe submitted by Aswathy, North Port, FL
Published on May 15, 2010