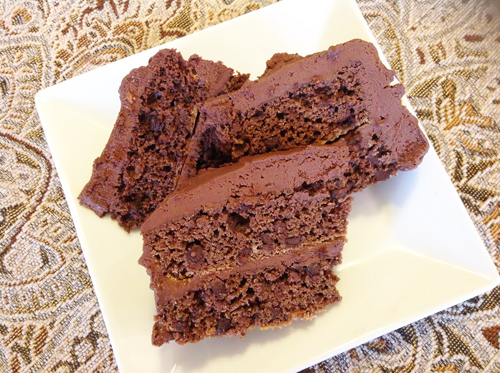 Triple Chocolate Cake
photo by recipe author
Servings: 8
Preparation Time: 40 min
Preheat oven to 325 °F
Grease a small cake pan very well and dust with coconut flour. Alternately, grease 8 lined cupcake tins, or 24 mini cupcakes tins.
Combine the cocoa, coconut flour, baking powder, and sea salt.  Add the eggs, honey, vanilla, and butter/coconut oil.  Add in the chocolate chips.  Pour batter into pan (or muffin tins) and spread flat.
Bake the cake for about 30 minutes. Bake cupcakes for about 20 minutes. (A toothpick should come out clean).
Remove from oven and allow to cool completely before topping with chocolate ganache frosting.
Jenny from Hendersonville, Tennessee won $50 for this recipe and photo! Submit yours here!
Published on April 10, 2015