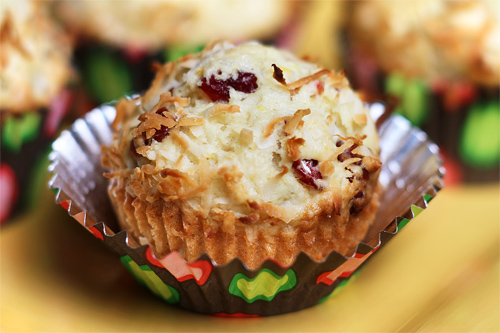 Triple Coconut Cranberry Muffins
Prepared by Pat, Photo by Jeremiah Shilhavy
Servings: 12 muffins
Preparation Time: 15 minutes
Preheat oven to 400 degrees F.
Combine flour, sugar, baking powder and salt with a whisk. Add coconut and cranberries. Make a well in the middle and pour in remaining ingredients except extra coconut flakes. Mix until just combined. Do not over mix.
Divide batter into 12 muffin cups lined with paper liners. Top with extra coconut flakes. Bake in preheated oven for 15-20 minutes, or until a toothpick inserted in center comes out clean.
Remove muffins from pan immediately and cool on a wire rack.
* For the freshest coconut milk make homemade coconut milk. (See video at this link.)
Recipe submitted by Pat, Jackson, WI
Published on October 8, 2010